If you're like most homeowners, you probably think that blinds and shades are simple, no-fuss, parts of your home that you don't have to put much thought into. In reality, the option you choose has a major impact on your in-home experience.
Today, there are motorized window treatments you can have installed that offer a wide range of benefits you simply don't get with traditional options, and we're going to take some time to talk about those benefits.
Let's get started.
1: Precise Control Over Lighting
With traditional shades, you really don't have much control over your home's interior natural lighting. You either fully part them, or you don't. Blinds help with this to a degree, but you're stuck sitting there adjusting them manually until you get just the right amount of lighting you want. That's time-consuming and not something that's really worth dedicating nearly as much time to.
With motorized window treatments, you can simply use a remote to make tiny adjustments in a matter of seconds; allowing you to take complete control of your home's natural lighting without having to fuss around or settle for something that's less than perfect.
2: Convenience
Secondly, it's far more convenient to use automated window treatments. You can be sitting down on the couch enjoying a game or Netflix, push a button, and the blinds will open or close on their own. You don't have to worry about getting up and adjusting things, and when you're at home after a long day at work, that small convenience is something that makes a big difference.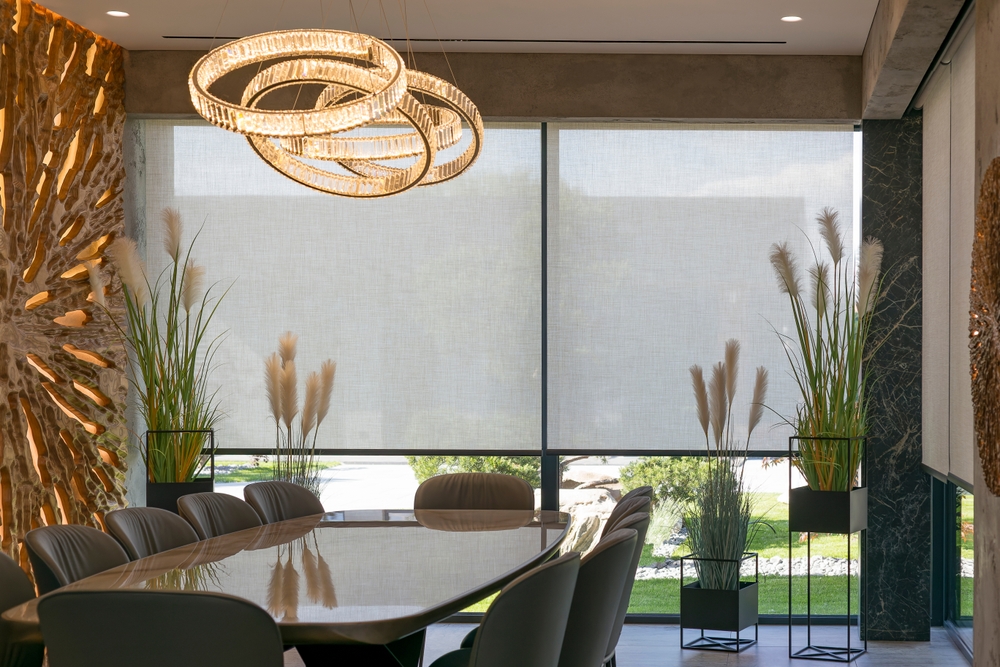 3: Ease of Use
This is similar to the convenience aspect, but it's a little more important. A lot of homes have oversized windows or windows that are elevated far overhead. When using traditional window coverings, you have to get up to those windows and manually adjust them whether it's comfortable and safe or not.
This can be a major issue for elderly or disabled people who can't afford to mess with step stools, or in the case of some large overhead rooms, full-blown ladders. That can end disastrously. Even those who are perfectly capable probably shouldn't put themselves in such situations just to open or close the blinds.
Automated window coverings prevent that from being a problem. You just hit a button, and the blinds adjust. It doesn't get easier and safer than that.
4: Safe Electronic Usage
Automated window coverings are cordless by design. There are no cords that can get caught on your feet while you're walking around the house, soaked by the rain if you leave the window open, or caught on things to the point that they pose a fire or trip hazard.
You can enjoy the convenience and utility of fully automated blinds without any inherent risks.
5: Better Insulation
The heightened insulation properties of automated blinds, which are typically thicker and made from higher-quality materials, mean that you'll enjoy a more energy-efficient home. This helps with light diffusion, heat reflection, and even soundproofing.
For your new automated window coverings, check out Blindsource.